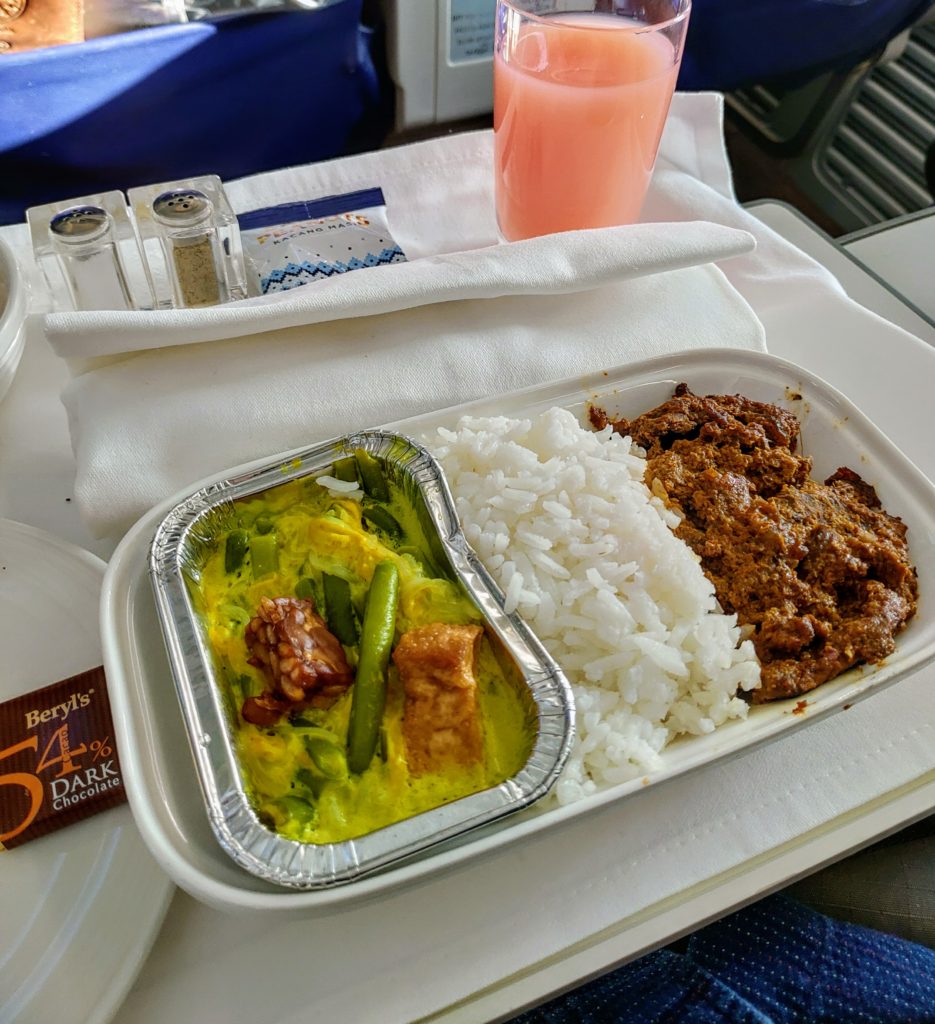 As you know, I'm a firm believer that flights' within the 60-minute range simply don't seem to offer sufficient time for the cooking, plating and serving of a meal of much decadence – and this flight was absolutely no different, with a presentation that not only rivalled, but also lost to a dog's dinner. But to my great amazement, it tasted really quite delicious with the exception of the long beans, and not actually having a proper drink to wash it down with.
Airline: Malaysia Airlines MH795
Route: Phuket – Kuala Lumpur (Approx. 1 hour)
Class: Business
Kicking off the afternoon refreshments today was a starter of an entire tray-load of white linen tablecloths, napkins, and then more linens. I'm not entirely sure what the purpose behind this was, although I graciously accepted – letting the Irish in me show clearly – even though I had no clear idea why I was thanking the crew for bundling a laundry bag worth of linen on my table.
Malaysia Airlines', on short flights such as this, curiously do not serve any alcohol in business class under the pre-tense of local cultural sensitivities. I do not want this to be considered acceptable practice, so I will just say this; serving alcohol on long-haul Western-based flights (London/Australian destinations) is a clear play towards appeasing the needs of high-yield Western business travellers; but there is absolutely no point attempting this, if you will disappoint many of them refusing to serve them a drink when they then use Malaysia Airlines to connect to an Asian-based destination. Rant over.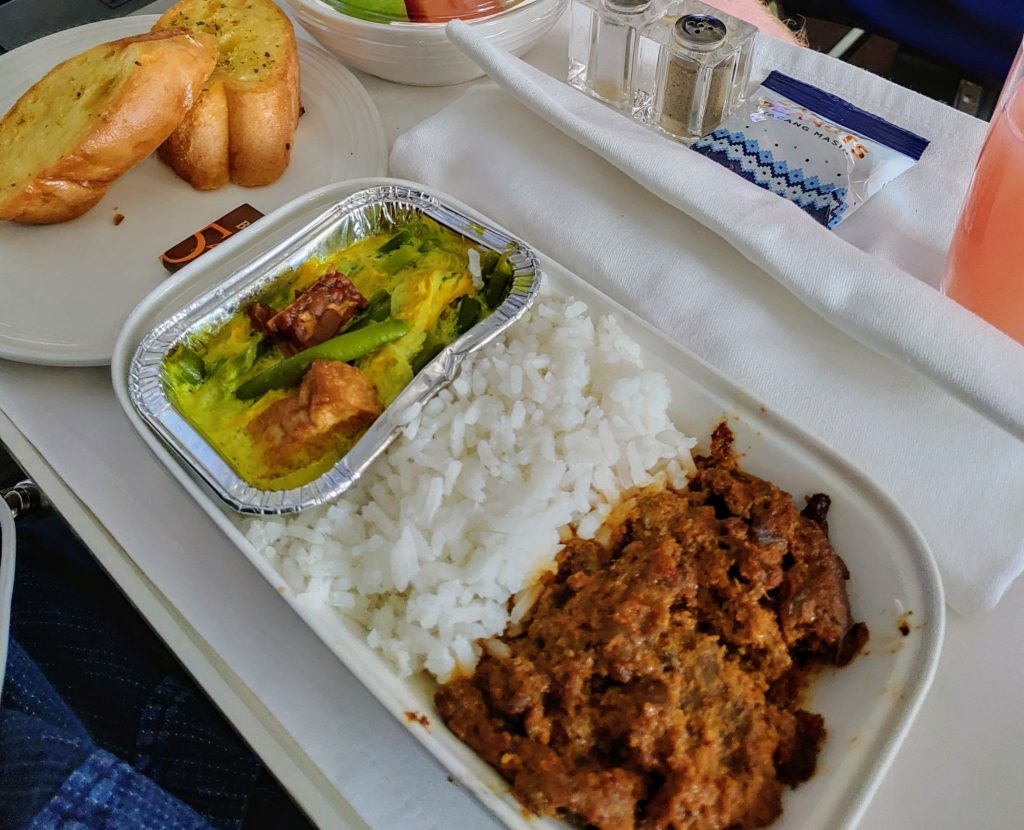 With my grumblings out of the way – and a lingering hangover from New Year to put me off continued drinking anyway – and instead a lovely glass of guava juice in hand, out came the meal.
OK, I think we can probably all agree that this is definitely a meal upon which we should metaphorically not judge a book by its cover; but to my great astonishment it actually tasted pretty great – though my strong affinity and admiration for a good beef rendang is certainly a matter of record at this stage.
I, unfortunately, did not quite enjoy the weird coconut milk-stewed vegetables with the same vigour and enthusiasm, but despite the almost Tetris-like packing of the meal, I had already quite attained elegant sufficiency.
In conclusion, this meal – for a 60-minute flight – was as good as one can possibly expect, and was definitely agreeable both in terms of portion size and taste. Unfortunately, Malaysia Airlines' continued refusal to serve an adult beverage in business class on short-haul flights for cost 'cultural sensitivity' reasons just frankly cheapens the entire experience and is something – even if I don't want a drink – that just has to go to move this meal into the 'outstanding' bucket.