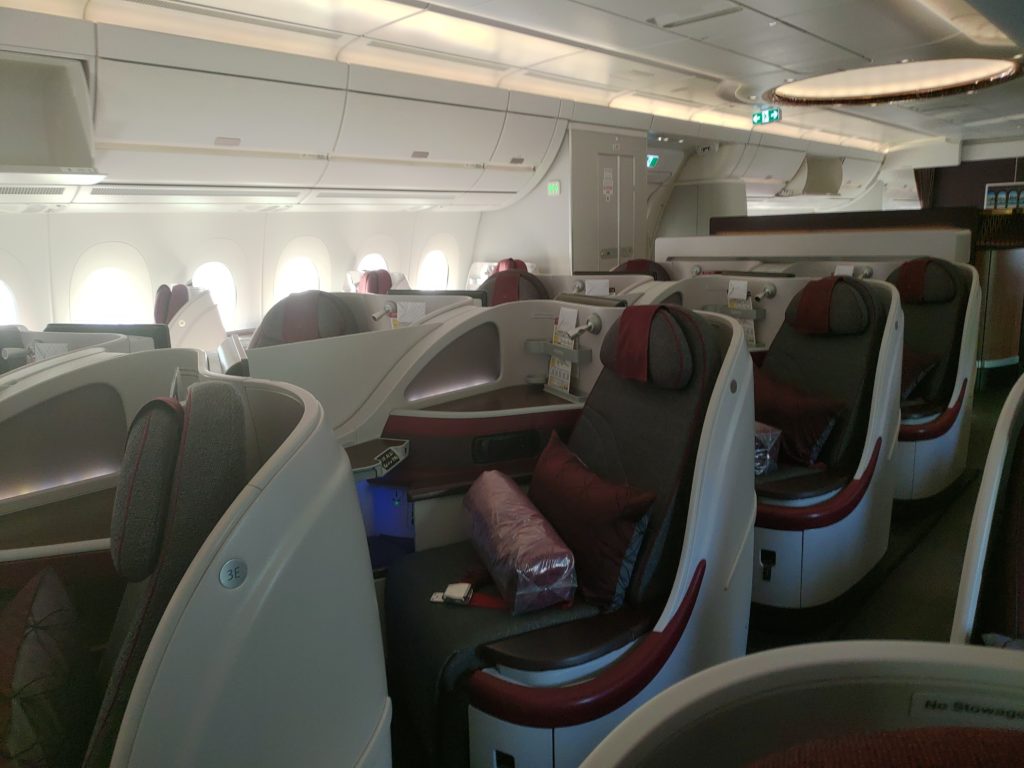 Having promised myself to give alcohol a skip – following on from my comparatively mild earlier journey – until at last several hours into the flight, it was with great disappointment that I broke my own promise within a minute of being seated; reasoning that it was a very acceptable drinking time – at least on some far-away continent. And thus, began what will likely be my final flight of 2020, much to my livers presumed great delight.
Airline: Qatar Airways QR17
Route: Doha – Dublin (Approx. 7 hours)
Class: Business
With such an early morning departure and an entirely empty cabin (there were about 7 passengers in business), it was my sense of duty that saw me tucking into the first offered glass of champagne – which presented itself much to my surprise if I'm honest, considering the time and the empty cabin – that came my way. The crew, similarly, felt an apparent sense of obligation to keep this lone ranger topped up throughout the thankfully accelerated boarding (otherwise I might have lacked the ability to stand immediately after take-off), before we got on our way.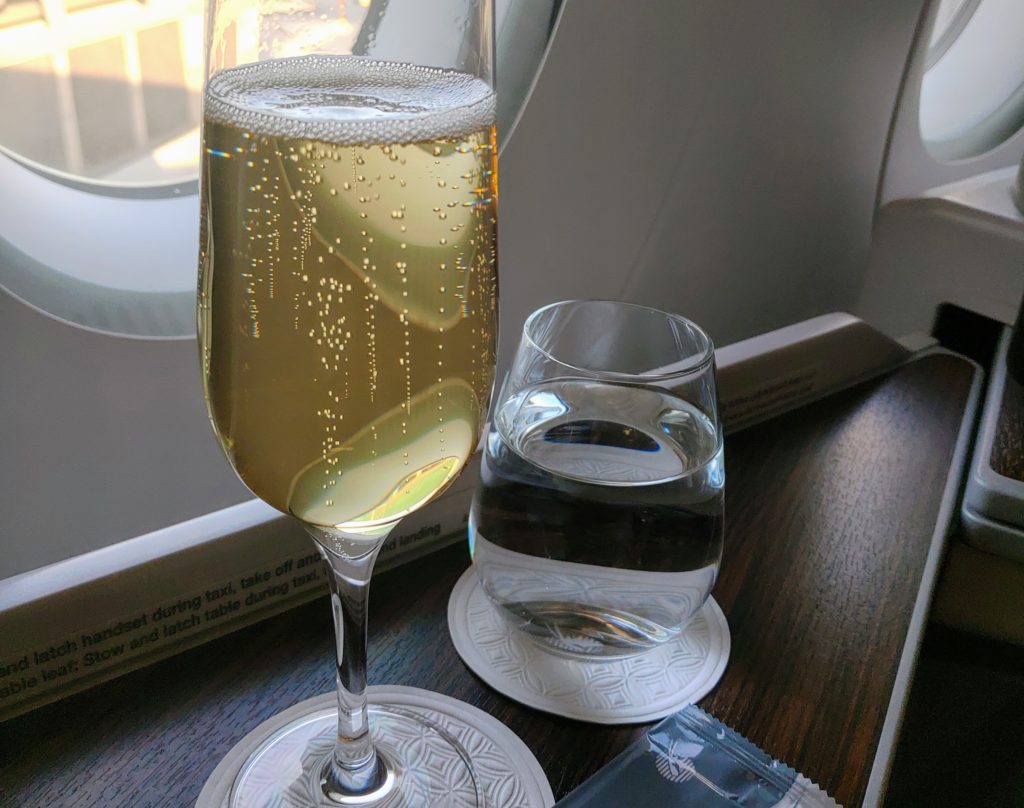 For reasons that entirely escape me, but which I presume had something to do with my attempt to maintain a degree of sobriety between multiple glasses of champagne, and as I waved goodbye to my home of 7 years in Malaysia and hurtled towards a new life in Ireland; I apparently saw fit to command a chocolate waffle.
I'm not sure how one would craft a fresh waffle using only an aircraft oven, and while it was a little tough and somewhat chewy, again, it was a surprisingly strong effort with what I would have imagined would be a troublesome order to prepare meaningfully given our environment.
After that I was ready for an immediate power-nap/morning coma of approx. 2 hours, before waking up in time to receive an iced coffee. I've never come across an ice coffee being served on a plane, but it tasted as good as if I'd made it myself (I know that doesn't re-assure anyone of its quality, but it was good, promise) and had I not earlier insisted on an immediate resumption of my dining feast upon completion of this beverage, I might have had another.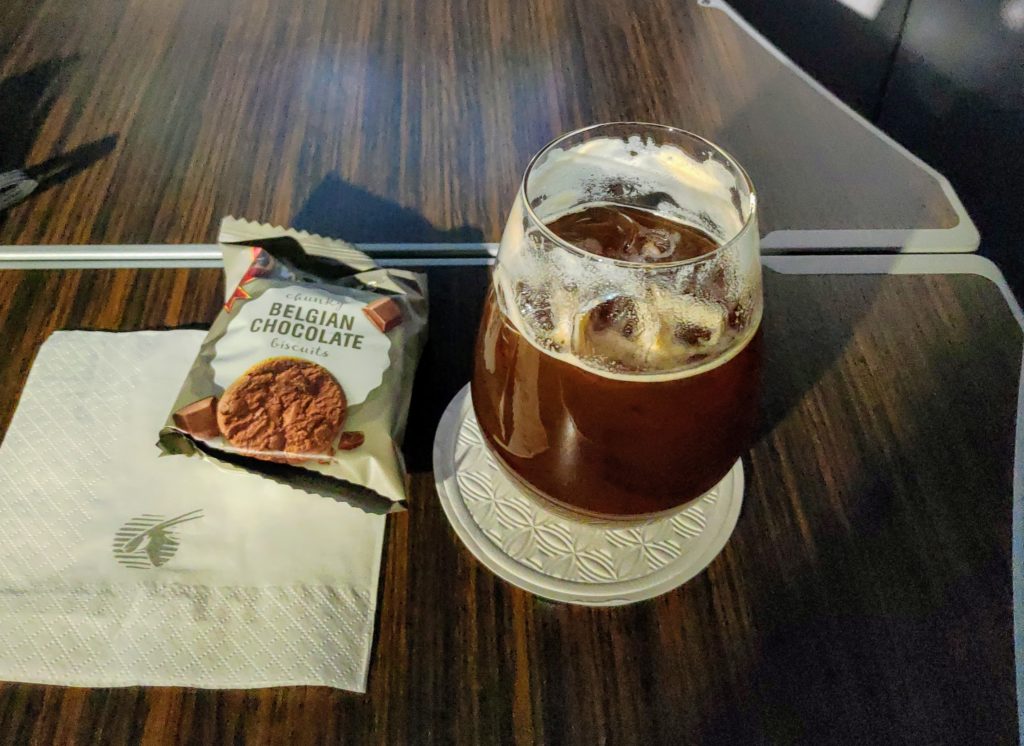 But time is money – or miles, in this case – and a glass of wine was brought forth without a moments delay, followed shortly by the next course. Once again, I went for something reasonably light, opting to skip the ceremony and pomp of the full multi-course extravaganza.
Much like earlier, it was a steak sandwich of sorts and despite its rubbery, somewhat false appearance, it tasted almost outstanding when compared to a multitude of other airline business class culinary efforts. At the same time, the wine continued to be topped up at all times and with very intense dedication (again, bearing in mind we were in the midst of the pandemic and global lockdowns in mid-June), such that walking confidently off the plane rapidly became more of a challenge than a given.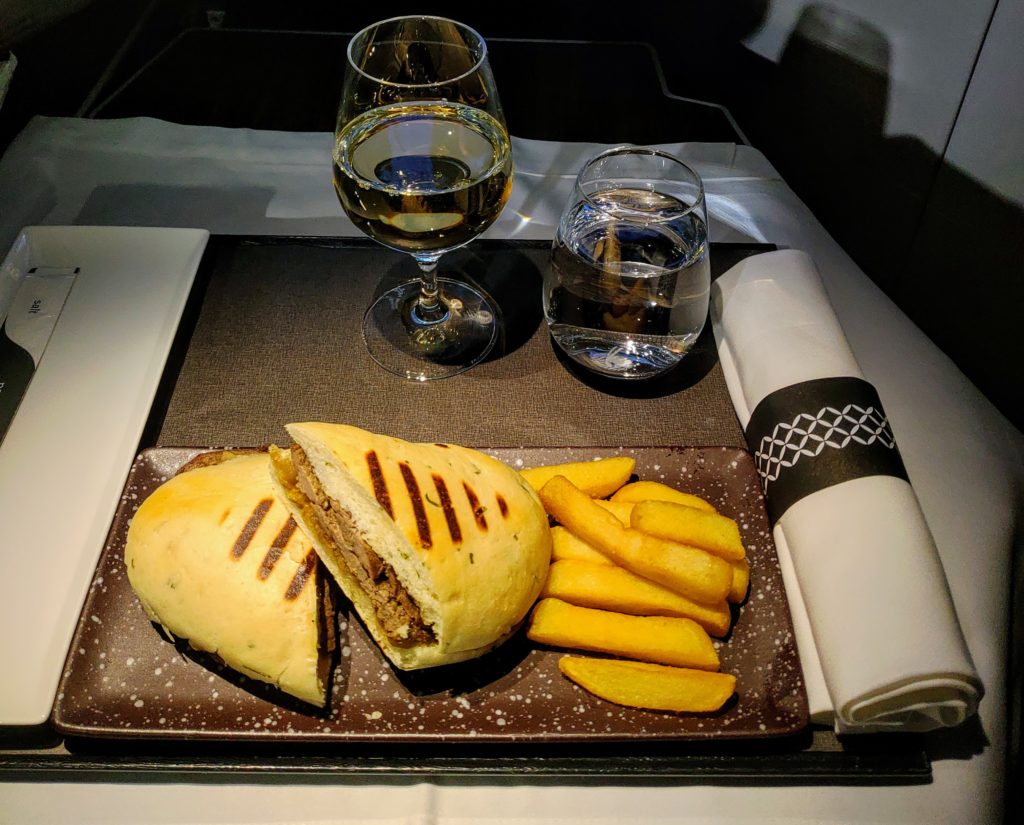 Overall, another solid and memorable (surprisingly) effort from Qatar Airways. Once again, the crew were personable, chatty and incredibly dedicated to providing outstanding food, service and all the drink one could tolerate (even for someone with an aardvark-like ability to aspirate beverages like myself). This journey served its purpose, in what was a very unusual journey for me returning home permanently to Ireland, almost in surreal fashion; topping off one of the most luxurious, enjoyable flights I've ever had to Ireland – all in the midst of the pandemic.